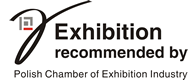 Ministry of Agriculture and Rural Development










04.12.2017
Farm and agricultural land owners and breeders planning to come to Poznań can get free admission tickets available after on-line registration at mtp24.pl.
28.11.2017
Application deadline: 30 November. The registration of applications for the most prestigious award of Międzynarodowe Targi Poznańskie is now in progress. The Gold Medal is a very recognizable award in the market, emphasizing product innovation and high quality. Becoming a winner of the contest, you will receive a package of unique benefits and an extensive promotion of the awarded offer one month before the Fair in the industry and national media.
27.11.2017
The extensive programme of accompanying events, during which the representatives of the agricultural sector will have an opportunity to broaden their knowledge and qualification, will complement the POLAGRA-PREMIERY Fair.
More news
---

Next edition of the POLAGRA-PREMIERY Fair 18-21.01.2018
.