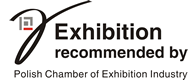 Ministry of Agriculture and Rural Development








You are invited to business talks during fair by, i.a.:

09.10.2017
Międzynarodowe Targi Poznańskie, the organizer of the POLAGRA-PREMIERY Fair, provides several-month campaign promoting the exhibitors and their products before the Fair. As part of the promotion of the next edition of the Fair, the HOSTED BUYER programme has been initiated, the purpose of which is to develop trade relations between Polish manufacturers and foreign contractors by arranging individual meetings of key foreign buyers and exhibitors selected by them
02.10.2017
The POLAGRA-PREMIERY Fair is a very important event in the industry, which has been integrating the agricultural circles for many years. It is a place of presenting new equipment for the upcoming season from around the world, but also a place of meetings with great personalities. The Fair is also a vital part of the agricultural culture developing the sector.
25.09.2017
World premieres, technological innovations, business, many new contacts – that is in a nutshell what the POLAGRA-PREMIERY International Agricultural Fair, which will be held in January 2018 in the heart of the Wielkopolska region, promises to be. You should think about the future today and plan your participation in the POLAGRA-PREMIERY Fair.
More news
---

Next edition of the POLAGRA-PREMIERY Fair 18-12.01.2018
.